Challenge
Modern complex enterprises and plants use a huge number of third-party systems from different vendors, covering all areas of activity of such enterprises. Integration of technical and business processes used to combine data from heterogeneous sources into understandable, consistent and valuable information for smooth enterprise life cycle becomes a necessity and a decisive factor for effective manufacturing.
Solution
Interim Processing Unit (IPU) software solution based on Open Cascade Commercial Platform allows integration through unified cross-platform multi-format data exchange. An orchestrator compliant with the ISO 15926 and CFIHOS standards ensures data transfer through several data links over internal and external application programming interface and through Enterprise Service Bus (ESB).
Scalable and rapidly deployable software enables smooth aggregation of heterogeneous data from IoT sensors, PLM, MES, ERP, simulation systems, etc., or integration of Plant Design software (such as Aveva, Bentley, Hexagon, etc.) with other enterprise systems (ERP, Project Information management system, etc.). Artificial intelligence can be utilized here for information quality check for the sake of information completeness and correctness.
Our Commercial Platform contains a powerful mechanism for storing massive heterogeneous data, while a separate development for each customer allows getting a unified solution that makes it possible to work with all the data. We give our customers freedom not to choose software from one vendor, but to effectively integrate the existing ones.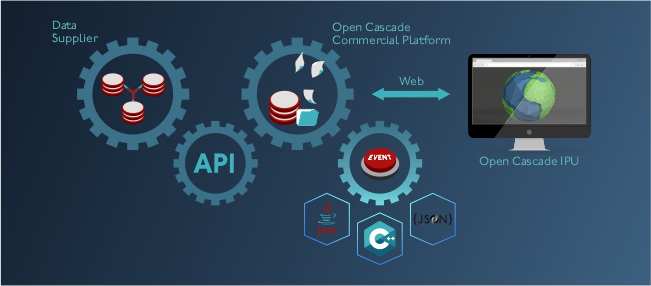 Business value
Unified and automated solution enables significant time and effort reduction in plant data transfer within heterogeneous environments. It also reduces the risk of data loss or corruption.