The fast-paced replacement of 2D drawings by 3D models is a well-spread trend in today's manufacturing, rapid prototyping, mechanical design, etc. Modern 3D CAD files are not only about geometry and general appearance: in many cases they come with important engineering information (PMI, attributes, etc.) which can be crucial for downstream processes. Being more comprehensible and understandable for non-engineers, 3D mechanical design significantly improves cross-department communication.
CAD modeling or PLM systems' price can reach up to hundreds of thousands dollars per license, plus they are very complicated and require specific knowledge and skills to operate in. Considering that many people (engineers, sales, purchasing, quality control, estimating / quoting, etc.) may need to view and explore 3D models for different purposes, a universal enterprise solution can be of a help.
Open Cascade comes with such a solution which can become a handy tool for many people involved in design estimation and analysis, inspection, manufacturing, quality control, etc. In DMU Reviewer one can load a 3D CAD file in the interface, view the model from different angles, zoom in/out, take measurements, create clipping planes and sections, leave comments, perform quick search in an assembly, filter parts, create color heating maps by attributes, etc.

Different companies use various CAD systems, what means that 3D models generated by these systems come in a large number of different formats. In this terms, DMU Reviewer is a universal solution, supporting the most popular proprietary and native CAD formats. The solution can convert geometry into a compact, lightweight and extremely fast format (internal .XBF format) what significantly streamlines and speeds up downstream usage of a model, if it is used by many people afterwards.
Assembly exploring and analysis:
It happens very often that a whole assembly should be reviewed and initial analysis is performed. DMU Reviewer possesses a number of features allowing to explore an assembly inside and to see parts which are hidden.
Here is an assembly of a multi disc clutch. The model is loaded into the software and the assembly tree containing all parts is displayed on the left.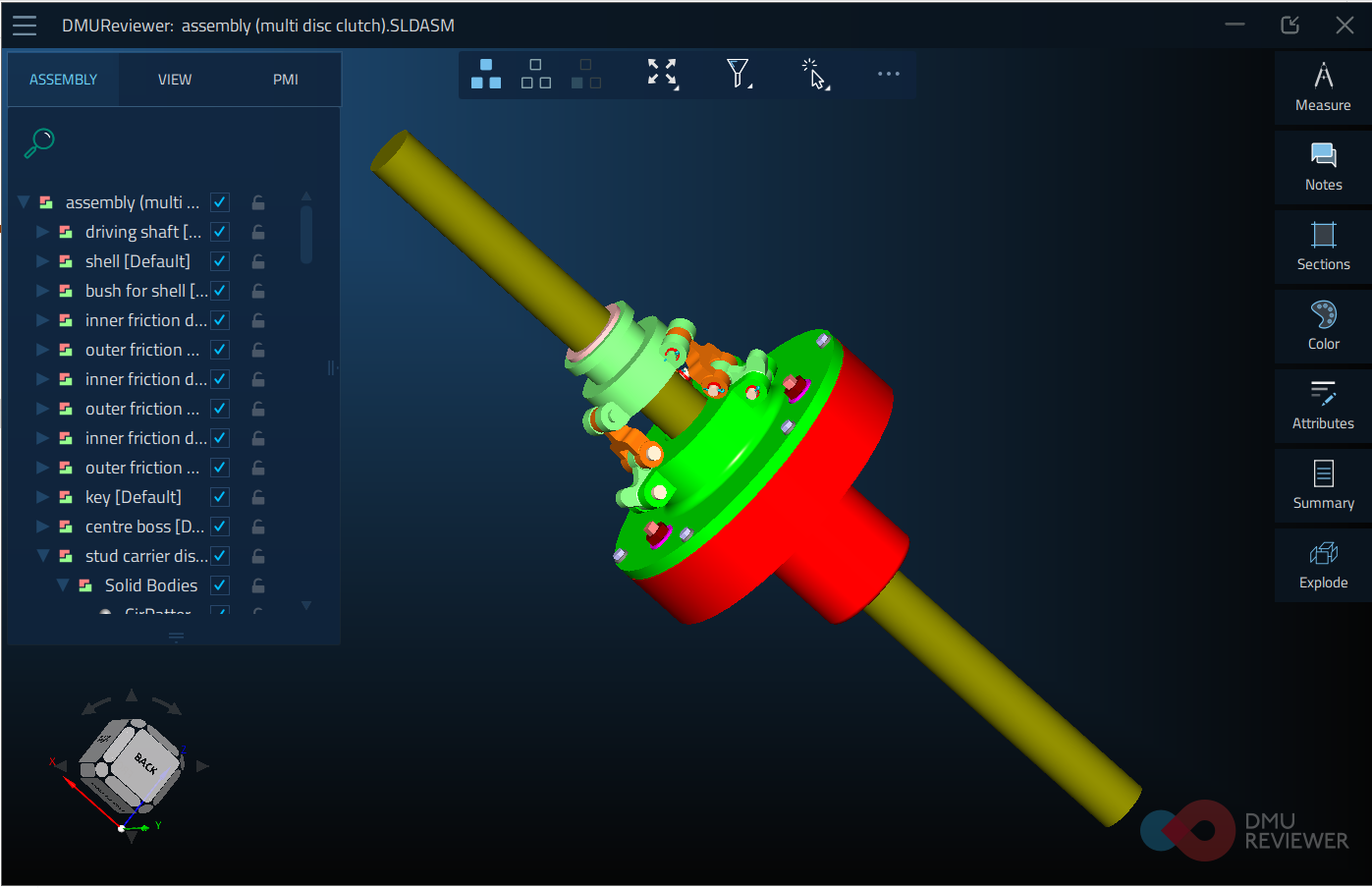 By typing a name of a part one can quickly find specific details which become checked in the assembly tree and highlighted in the viewer.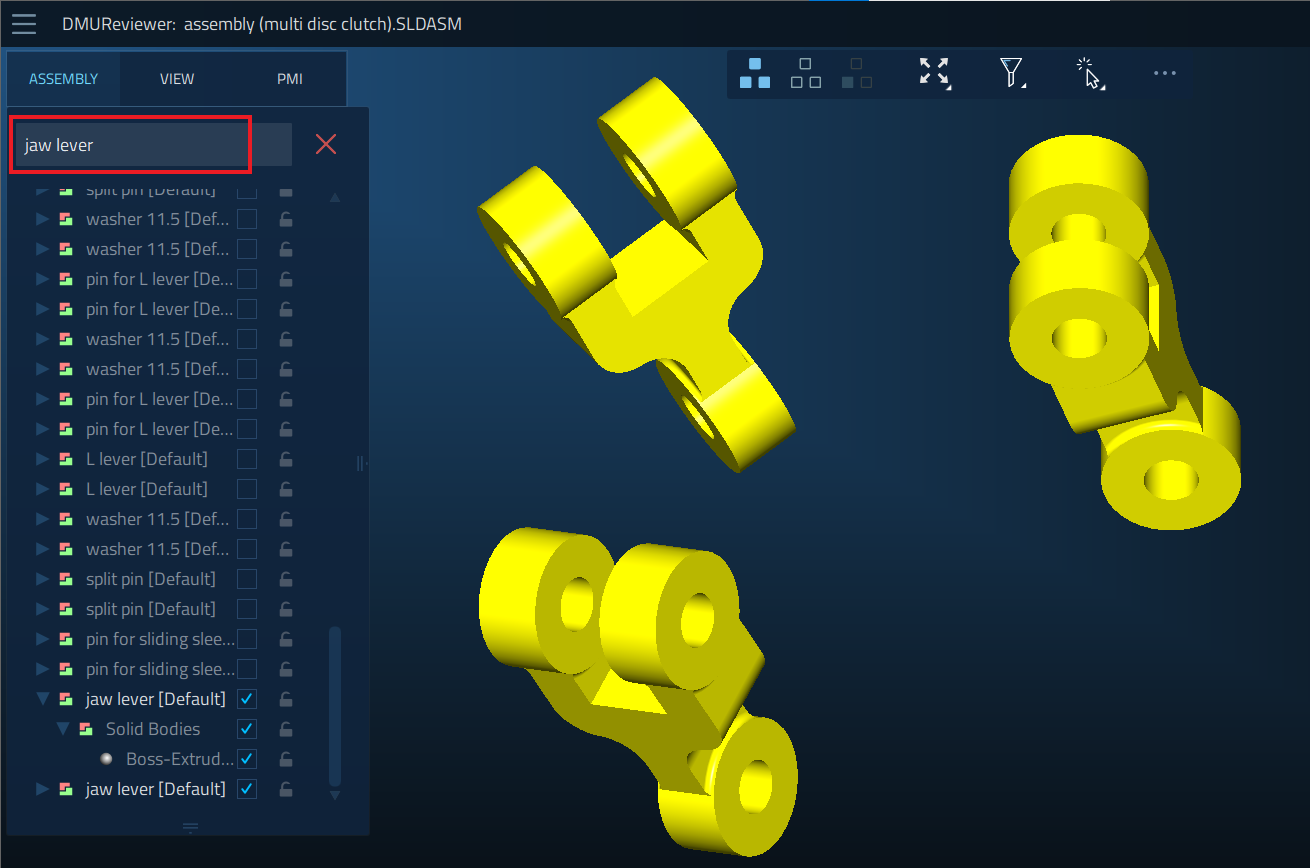 Parts in an assembly can be also filtered according to a part name, attribute, color, etc. In the picture below the Filtering is performed by a Part Name and only sweeps are left in the interface. It is possible to make the rest of the model semi-transparent, in order to correlate filtered parts with the whole assembly.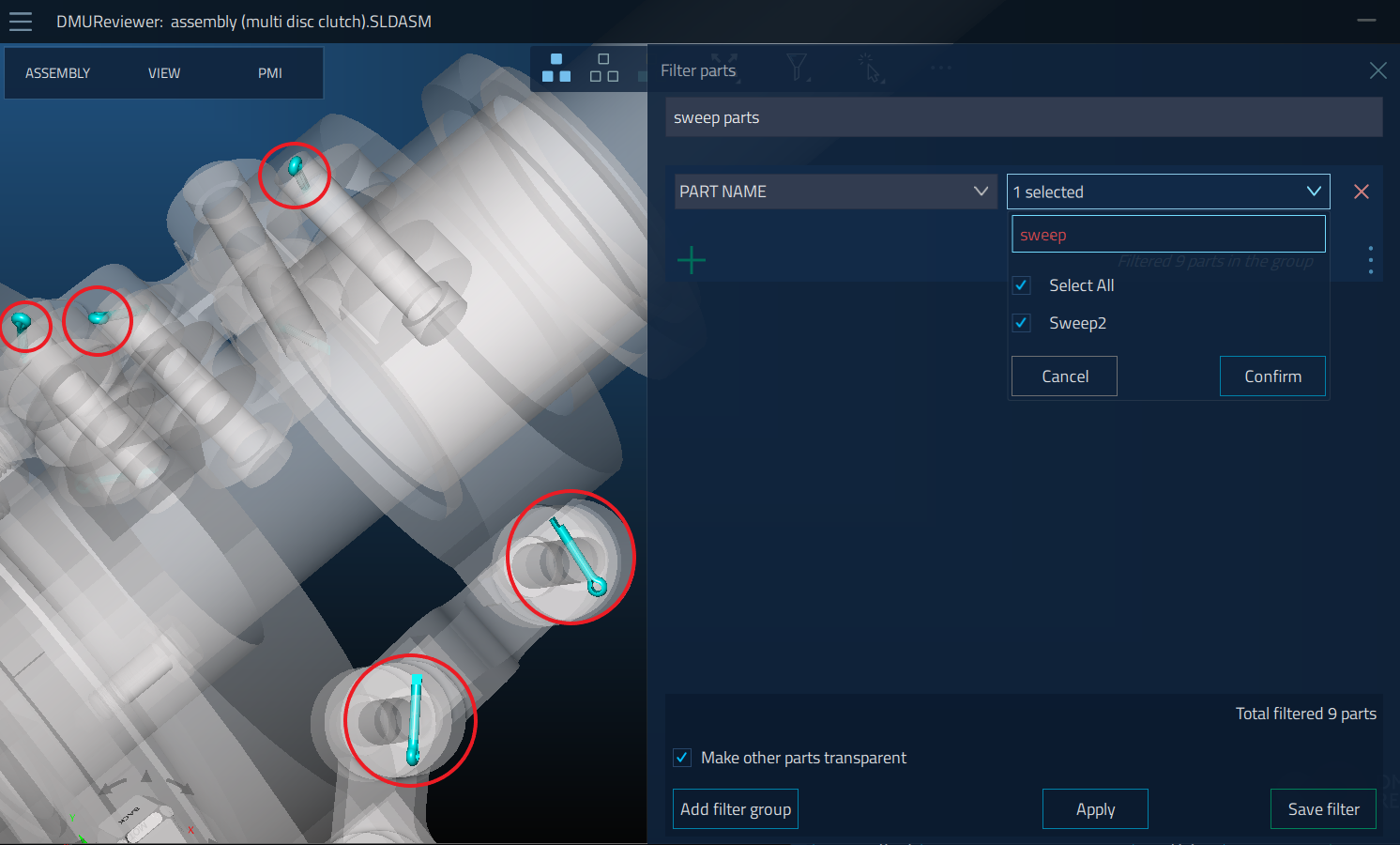 We Explode this assembly to explore it inside. We see very well that there are 8 discs which are hidden and are not visible without exploding.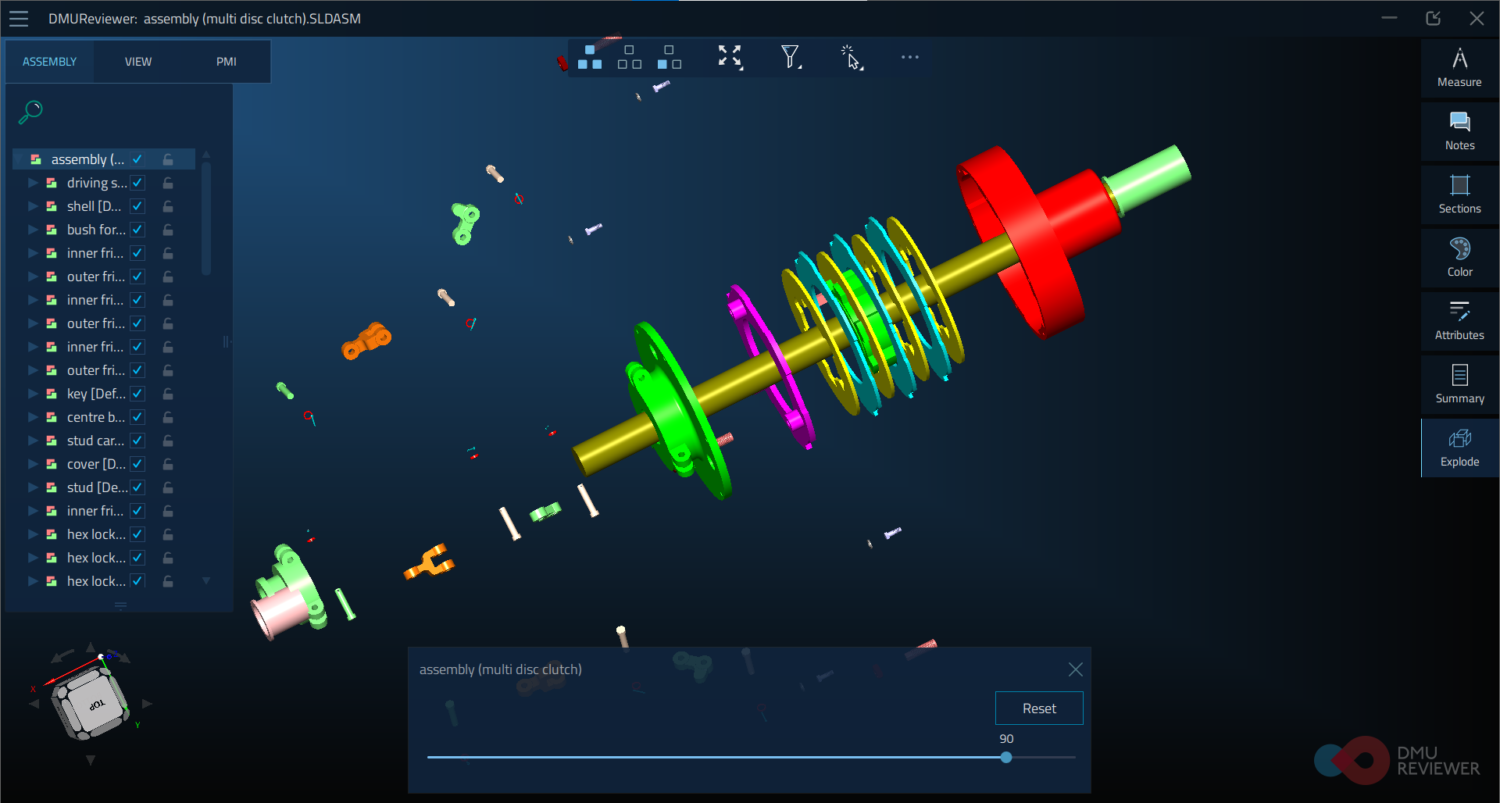 In some cases Clipping planes can be a good solution in order to see hidden or hardly accessible parts. By enabling a Capping checkbox we can see hollow and solid entities.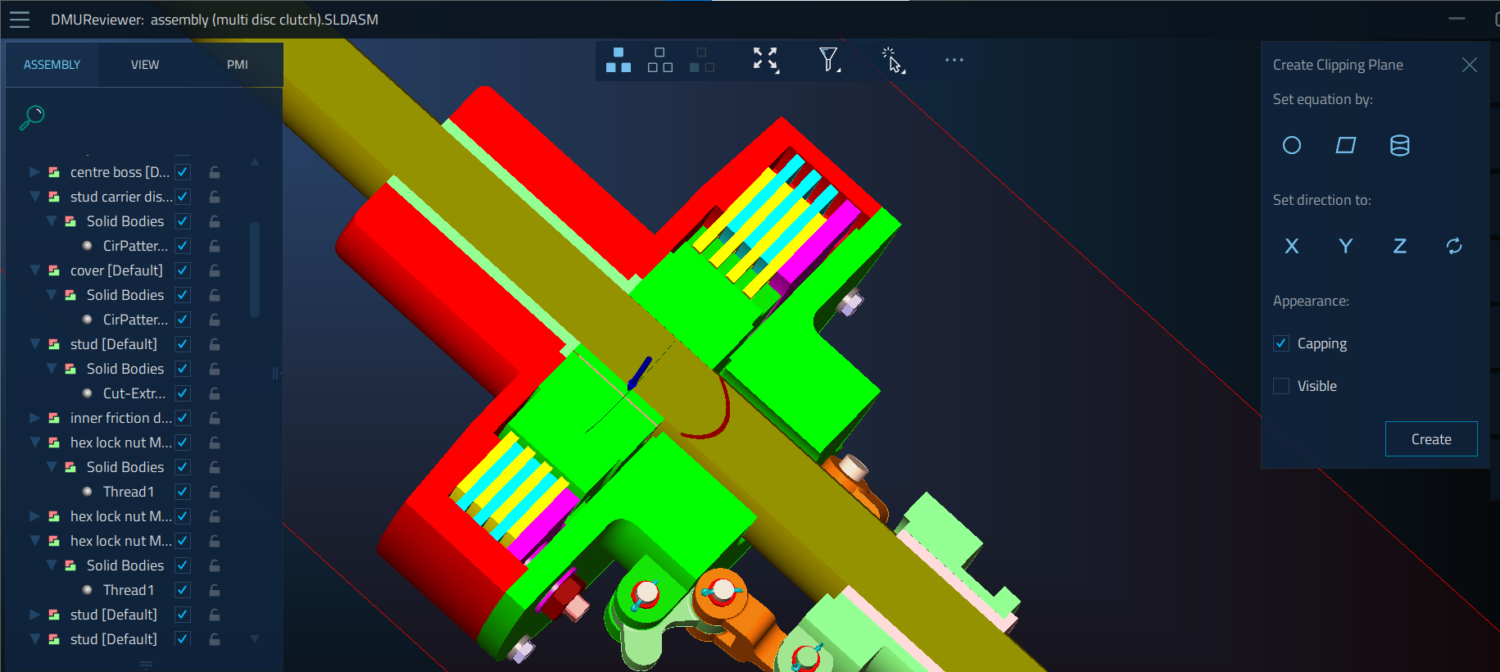 A Section can be created to explore the assembly along different axes and to take critical measurements inside right in sections.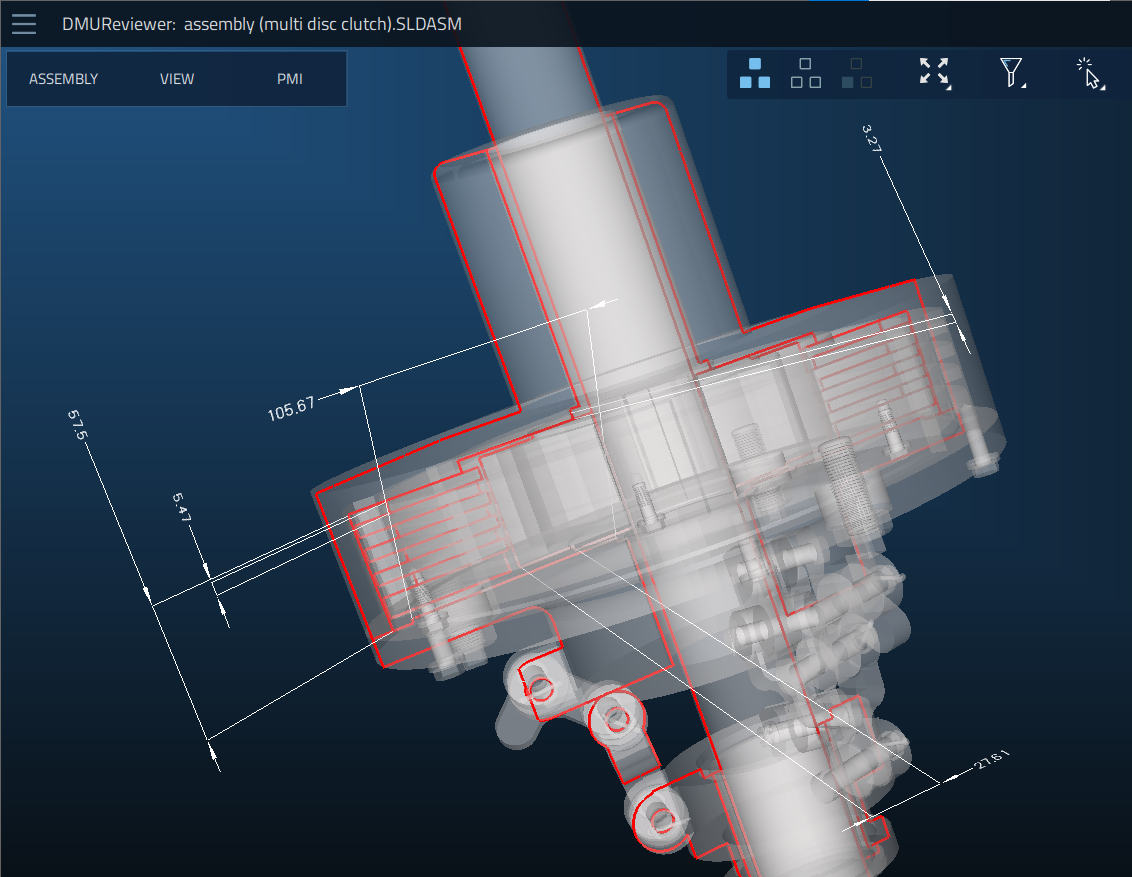 Every iteration can be saved as a separate View what can be very helpful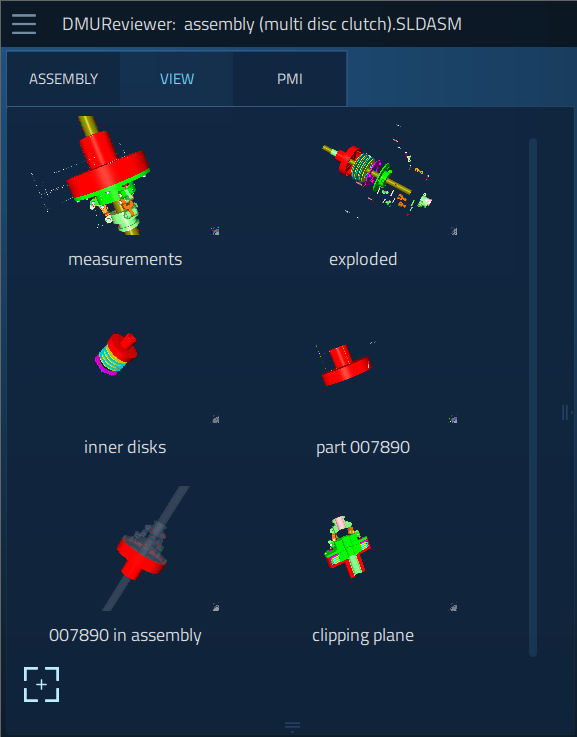 Conclusion:
DMU Reviewer offers a large set of features to perform quick design review and analysis of an assembly. Due to high performance and intuitive interface DMU Reviewer can become a handy tool for various day-to-day tasks related to design review, inspection, estimation, quality control, etc.
---
*The CAD model used in the screenshots (multi-disc clutch) was kindly provided by Akshay Kadam via GrabCAD.