Web3D Viewer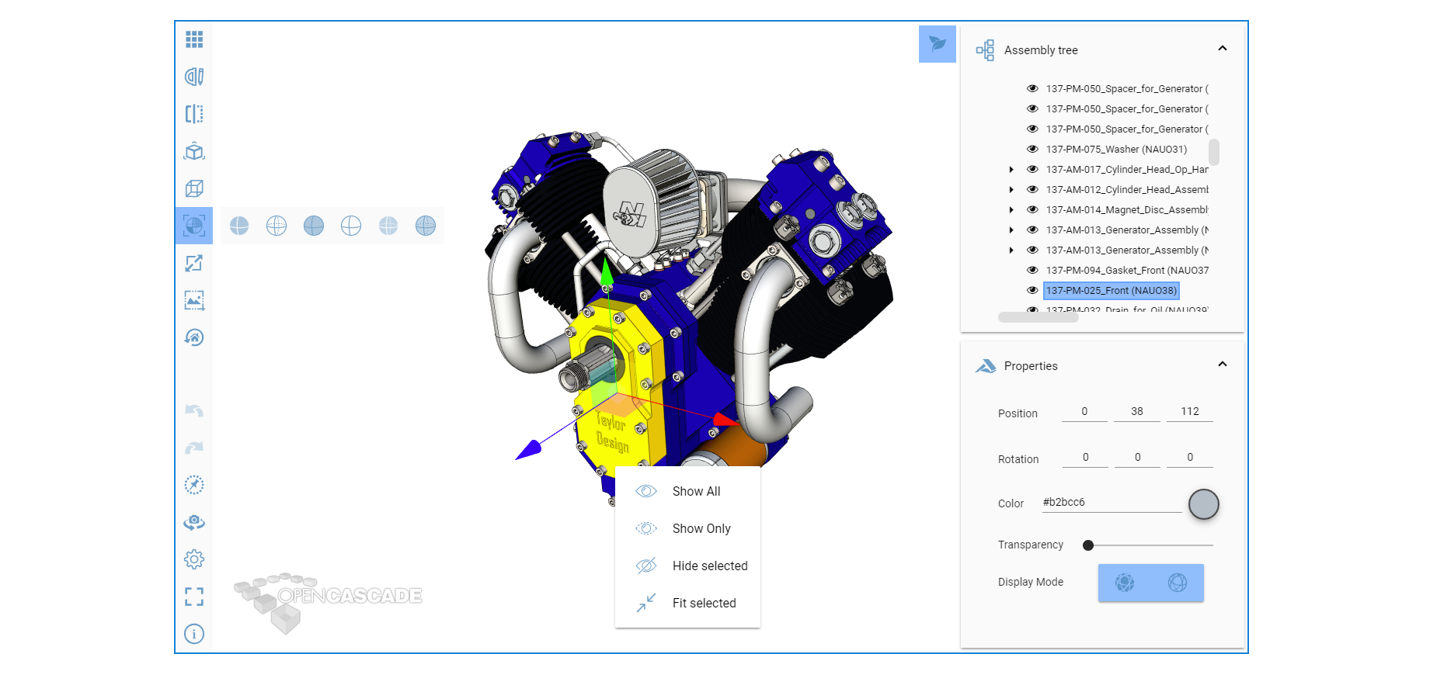 Step-up solution for bringing your CAD products to a website
Overview
Web3D Viewer is a package of software components for bringing CAD presentations to the web. It provides essential viewing and interactivity capabilities for short-time creating of 3D-rich web applications.
Focus on CAD, advanced rendering and extendable graphics
We have created Web3D Viewer for massive CAD and Point Cloud data (Point Cloud support is not included into the package). Advanced visualization capabilities, interaction, shape meta-information and link to source topology available out of the box - these are the keystones of the rendering solution. We take care of compatibility. Three.js renderer is also embedded to allow displaying custom actors thus you can re-use a lot of ideas and samples from the web for you project needs.
Compatibility with many end user devices
OPEN CASCADE Web3D Viewer complies with strong performance and usability requirements. It is compatible with both WebGL 1.0/2.0 and was tested to work on many end user devices and desktop browsers. Its user interface is adapted both for desktops and touch-screens.
Scene creation
Complex composition of products with custom display properties can be described using JSON-based format and loaded into a viewer. JavaScript API layer offers full subset of functions for scene scripting. Authoring a scene by moving and position objects, changing their display style, adding measurements and annotations is also available in interactive mode directly in the web browser.

Easy integration and API
User Interface package has been developed in the context of standard application cases and includes a wide set of features and configurable minimalistic layout. It can be easily inserted as an integral part of a web site. Custom scripts can control the viewer and renderer using JS API layer.
Self-included packaging
Software components are independent from any external servers or third-party web resources. Everything, including presentation data, can be hosted in your enterprise environment.
Main capacities

Advanced capacities

 

Interactive selection and highlighting

 

Performance optimizations

 

Shading model

 

clipping planes & real-time capping

 

efficiency mobile battery use

 

3D scene creation & edition

 

Visualization & Manipulation

 

Super-sampled anti-aliasing

 

Context-dependent popup menu

 

Measurements & Annotations

 

Sectioning & exploding

 

Undo/redo

 

Snapshot

 

Dynamic tooltips

 

Multi-language support