3D Post-Production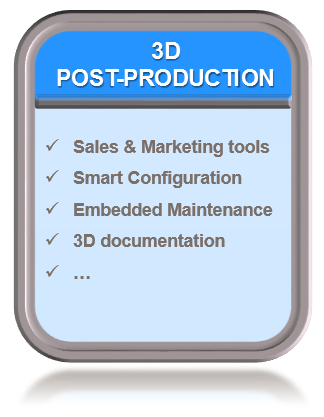 Once a product is manufactured, its real life begins. Industrial companies need to certify it, propose different configurations, support sales, assure traceability and further maintenance. Post-production actions are different for various industries but there is at least one factor common for all of them – hard competition requires innovative and advanced tools to help various post-production steps.
The use of various 3D software for post-production is constantly increasing following the raising computing and graphic power of computers and mobile devices. Various industries that previously used industrial 3D software only for design and manufacturing, discover more and more use cases when 3D can bring particular advantages at various lifecycle steps of their products.
That is why the OPEN CASCDE 3D Post-Production offer combines the power of our existing 3D modeling and visualization components with our 3D expertise and our capacity to develop customized solutions.
Interactive 3D marketing and sales tools, smart 3D configurators that incorporate domain-specific intelligence, 3D-enhanced documentation and embedded maintenance applications – these are examples of a 3D solution that can increase competitiveness of your products.
3D solutions designed by OPEN CASCADE are used not only by manufacturers of various products but also their subcontractors. For example, ship certification agencies use 3D certification software developed by OPEN CASCDE to accelerate their validation and certification processes. Another example is product-dedicated 3D documentation that can simplify the job for service suppliers.
Every day we discover new amazing cases where 3D can help companies at Post-Production steps of their product lifecycle. We help our clients to transform their specific Post-production challenges into their competitive advantage and we can do so for you.