3D Manufacturing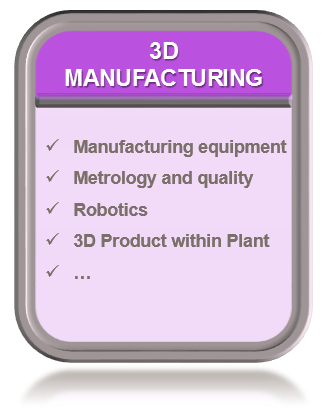 Manufacturing and processing industries use extensively various equipment, automated machines and robots that are required for processing, manufacturing, assembly, quality control and packaging of final products or prototypes.
Creators of various equipment provide non-stop efforts to make their equipment better, faster, more complex and more automated, answering the growing needs of their clients for final products manufacturing. Specialized 3D CAM, CMM and robotics software is crucial for this industry; however, standard packaged software cannot answer all the growing needs anymore. Equipment manufacturers require 3D software that best fits their particular equipment and takes advantage of their specific know-how. Moreover, having recurrent runtime software license costs associated with each sold piece of equipment is another important challenge for companies.
That is why the OPEN CASCADE 3D Manufacturing offer combines the power of our free 3D modeling kernel with our experience and capacity to develop dedicated software that will increase competitive advantage of your equipment by leveraging your particular know-how and reducing your recurrent costs.
Our clients are various big and small companies that are leaders on their respective markets. They create tooling machines, PCB printing equipment, coordinate measurement machines, robots, assembly lines, packaging lines and so on. They work in very different areas but they have one thing in common – they take advantage of specific 3D software tailored for their particular domain.
CAD kernel, various 3D data and specific processing are required as an input for manufacturing, robotics and metrology. The use of complex dedicated 3D algorithms increases the level of automation and raises the efficiency of processing. State-of-the-art techniques of 3D visualization and control of constantly increasing amount of data allow faster decision making.
Every day we help our clients to transform their specific Manufacturing challenges into their competitive advantage and we can do so for you.