3D Engineering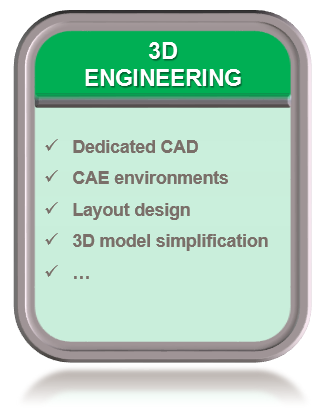 Industrial Engineering is an area that uses 3D since a long time ago for Computer Aided Design (CAD), Computer Aided Engineering (CAE), PCB design and other multiple CAx software solutions. Most of such solutions require a 3D modeling kernel, such as Open CASCADE Technology, and thus development of various Engineering software is the origin of our company.
The Engineering software market today has many existing and excellent commercial CAx software packages. Nevertheless, the packaged software cannot cover all aspects and needs that various industries have nowadays to design and validate their products. The increasing competition forces companies to search for innovative 3D Engineering solutions that answer precisely their challenges.
That is why the OPEN CASCADE 3D Engineering offer combines the power and flexibility of our 3D technologies with our capacity to design, develop and maintain a dedicated solution that fits your needs and helps your particular business.
Examples of such solutions include dedicated 2D and 3D CAD modeling applications, CAE numerical simulation environments and pre-post-processing for specific calculation codes or methods, 2D and 3D layout solutions, simplification of CAD data for various use and many other specific applications required by industries.
For many years, we successfully deliver customized 3D Engineering solutions for various industries such as Energy and Utilities, Shipbuilding, Aerospace, Automotive and others.
Every day we help our clients to transform their specific Engineering challenges into their competitive advantage and we can do so for you.